IRVINE, Calif., June 1, 2018 – The ATV Safety Institute today introduced a new  logo to coincide with the launch of its annual ATV Safety Week that will run June 1-10 at free ASI ATV RiderCoursesacross the nation.
"The new logo retains the Americana red and blue colors that are so familiar to our licensed instructors and students during the past four decades, but now it graphically depicts our focus as a safety organization, which is on the rider and the safe and proper use of an ATV," said Erik Pritchard, president of the ATV Safety Institute.  "The logo communicates some of our eight Golden Rules for safety, such as wearing the proper gear and riding the proper size vehicle, all of which participants will learn at our ATV Safety Week RiderCourses."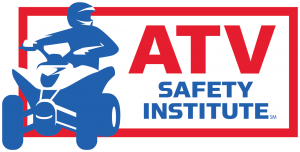 ASI's New Logo
Pritchard emphasized that ASI provides free training year-round to purchasers of a qualifying ATV, but this week training is open to everyone who owns an ATV.  If you don't own an ATV, some classes have loaners available.  "We want everyone's first ride to be at an ASI RiderCourse, and for those who have been riding for awhile without training, we want your next ride to be at one of our RiderCourses," Pritchard said.  "Taking an ASI RiderCourseis serious fun and we are confident that, even if owners have been riding for many years, they will learn something valuable during the training. They may even want to then enroll in our program to become a licensed instructor."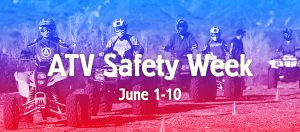 The half-day, hands-on ASI RiderCoursesare taught by licensed instructors and are available to adults, youth and families.  Riders can find the closest training sites by going to ATVsafety.organd clicking on ATV Safety Week or by calling 800-887-2887. Visitors to the website also should explore the free online E-Course.  ASI encourages families to take the E-Course together.
ASI's Golden Rules of ATV Safety
Always wear a DOT-compliant helmet, goggles, long sleeves, long pants, over-the-ankle boots, and gloves.
Never ride on paved roads except to cross when done safely and permitted by law – another vehicle could hit you. ATVs are designed to be operated off-highway.
Never drive or ride under the influence of alcohol or drugs.
Never carry a passenger on a single-rider ATV, and no more than one passenger on an ATV specifically designed for two people.
Ride an ATV that's right for your age.
Supervise riders younger than 16; ATVs are not toys.
Ride only on designated trails and at a safe speed.
Take a hands-on ATV RiderCourseand the free online E-Course. Visit orgor call 800.887.2887.
The All-Terrain Vehicle Safety Institute, develops rider training programs and promotes the safe and responsible use of ATVs. The ASI works to reduce crashes and injuries resulting from improper ATV use. Formed in 1988, the ASI is a not-for-profit division of the Specialty Vehicle Institute of America. For safety information or to enroll in the ATV RiderCoursenearest you, visit atvsafety.orgor call (800) 887-2887.
# # #